Welcome to your next Event to Remember!
-
Full Service Event Specialists
Serving Central Ohio since 2002
Steven's Catering offers full service event planning for any type of gathering whether it is breakfast, business luncheon, dinner for 10 to 300, wedding reception, anniversary, birthday or high school reunion. If you are bringing people together, we have the food and experienced staff to fit your event.
Located in Columbus Ohio, Steven's Catering opened in 2002 by Chef/Owner Steven P. Sims. Since then, Steve Sims and his staff have been serving both quality interpretations of classic dishes and daring new ventures into the uncharted territories of food. Our Executive Chef Jack Kendall looks forward to creating a culinary masterpiece for you.
Our mission is to exceed your expectations. Contact us today and let's get started on your unforgettable event.
Phone
(614) 486-1221
Fax
(614) 486-1210
EMail
stevenscatering@gmail.com
LOCATION
1221 Chesapeake Ave.
Columbus, OH 43212
OFFICE Hours
M-F 9a–5p

What is full service catering?
We do all the work so you don't have to! Including but not limited to:
Menu Selection

Food Preparation (onsite or in our kitchen and delivered to you)

Delivery and set up

Serving staff including Bartending

Clean up
Along with any of the following:
China

Linens

Tables and Chairs

Tent rental

Ice sculptures

Flowers
Need something that isn't listed? All you have to do is ask
Just need a bartender? Steven's Catering offers full bartending services with options available for bar set up (mixers, etc) beer, wine and premium liquor.
*Bartending Services Only require a deposit at the time a signed event contract is returned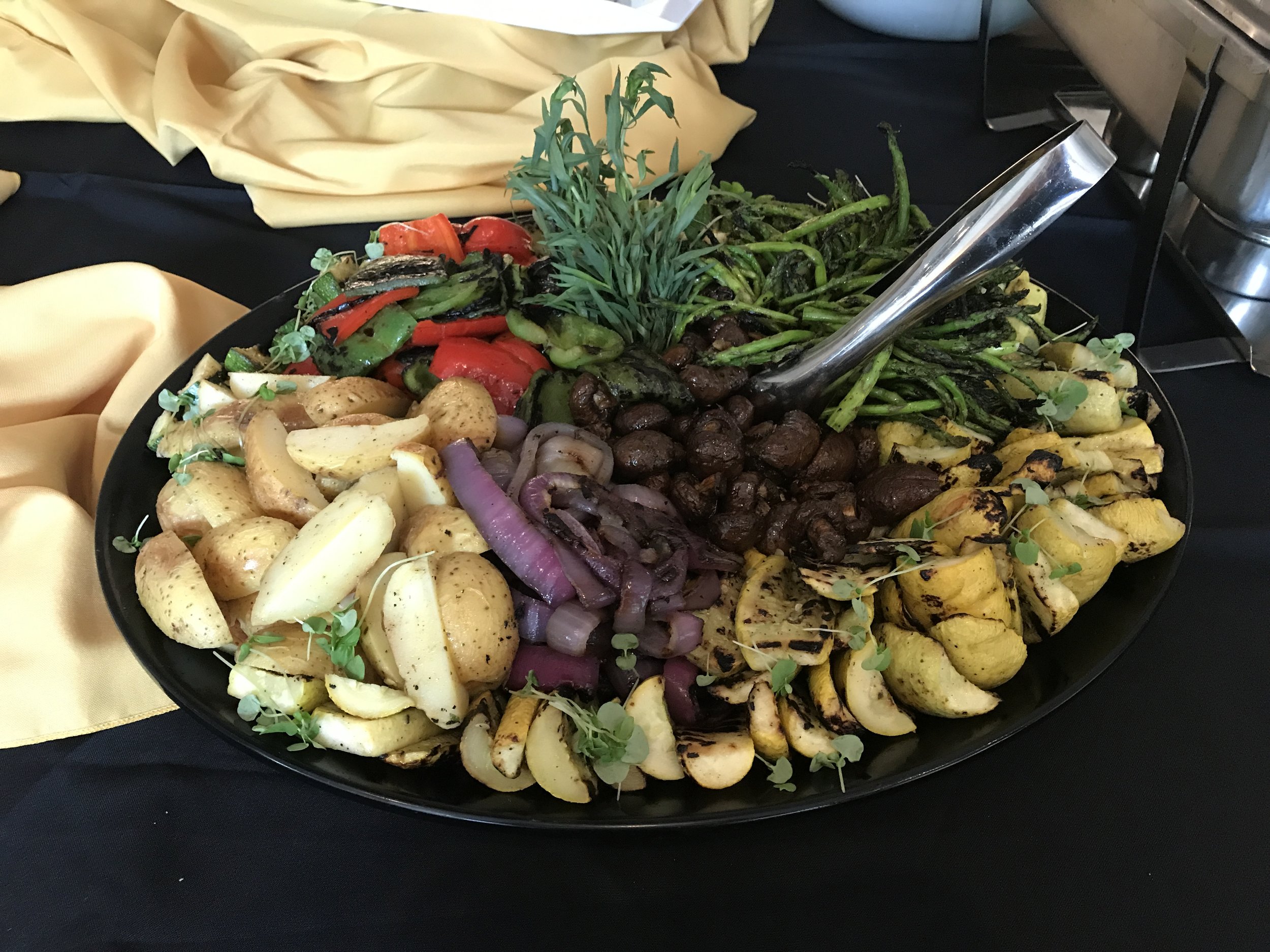 Here's what our clients
have been saying:
Your feedback is important to us!
Once again your food was a huge hit! Thank you for always providing top quality food and service.
G. Heydlauff, October 2019
I used Steven's Catering for my son's engagement party. Steven offered many helpful tips to make this a special event. The food was amazing and the wait staff was helpful, friendly and very knowledgeable. I would highly recommend using Steven's Catering for your next party. I know I will!
H. Simon, June 2019
We selected Steven's because he had catered an event we had attended last year. After that event, we told ourselves that if we ever needed a caterer, Steven's would be our first call. From start to finish, we could not have asked for a better experience. Very easy to work with, very accommodating and helpful, and while it's simply not inexpensive to cater an event, I found Steven actively trying to control cost. And the food - try to find better. Specifically: we were not organized, and Steven's organized us from the dishes to the food; the menu is very organized and thorough yet not overwhelming; the food is excellent (beef tenderloin, Mediterranean salmon, black bean/quinoa/sweet potato salad, and raspberry streusel were among our fantastic dishes); and the clean up was outstanding. Do note that when you make that initial call into Steven's Catering, it either was or feels like you're calling into a large call center which is to say we thought that Steven's might be too big of an organization for our party. That notion was quickly dispensed with once contact nearly immediately was established by Steven's office manager. And then we worked with Steven himself. Communication was great at all times via phone, email or text. We highly recommend Steven's Catering.
T. Morin, May 2019
Everything was phenomenal! We received many comments back about how great the food and service was. While we heard about everything, we got a lot of shout-outs for the deviled eggs!
A. Hartge, February 2019
We cannot say enough about Steven and his catering service. Steven's Catering has served at many events we have either hosted or attended, and we endorse the business wholeheartedly. Most recently, Steven's Catering provided excellent catering services at our daughter's wedding. The hors d'oeuvres were not only beautiful in presentation but were tasty, as well! And the dinner? Well, many of our guests shared it was the best wedding dinner they had ever enjoyed. Steven is trustworthy, honorable and most professional. He employs the best staff, as well. We look forward to working with him in the future.
J. Leach, February 2019
Once again, your bartenders were wonderful and did a fantastic job! We really appreciate how professional, helpful, courteous and easily they come in and manage the bars.
J. Millisor, February 2019
Steven's Catering has been a memorable part of my holiday parties-it warms my heart to receive so many wonderful comments about how amazing and delicious the food is-people talk about it all year and say they can't wait for the next party.
L. Sereyka, December 2018
Thank you, Steven and Staff for a remarkable wedding reception! You exceeded our expectations with the taste of the food and exceptional staff! You were professional and presented our guests with a most memorable meal. Your staff was personable and professional! We would highly recommend Steven's Catering and look forward to another opportunity to enjoy your personalized service in the future! Let Steven take care of all the details, he won't disappoint!
F. Rechel, August 2018
A1 Job. Great prices and excellent food. Highly recommend.
K. Wood, May 2018
We have used Stevens for 3 events now. Will continue to use them. Staff is wonderful. Food is fantastic and they listen and cater to our needs for each event. Thank you all.
C. Kennedy, November 2017
Our food was amazing and loved the staff!
T. Miller, October 2017
As a planner, it was SO great working with Steven & his team! They were on top of all the details, the timeline, and the food was GREAT. It's so nice being at a wedding and actually enjoying the food! I know my bride was also super pleased with their service. Will definitely recommend them to my future brides. I can't wait to work with them again!
Leda Anderson, September 2017
Steven....first please accept my apology for not sending an earlier note of thanks for the wonderful event services that you and your staff have always provided for Jan and me. Additionally please accept my appreciation for those arrangements that you continue to extend for our corporate parties. Needless to say, the catering….the food stuffs…have been the best, offering the most appetizing selections. But one factor that is most outstanding remains your personal attention to detail during each occasion. You seem to visit each of our gatherings, ensuring that everything is perfect, and you are most viewed by Jan and me as one of our guest, rather than the one who is present to assure seamless celebrations.
And then there was Elizabeth's wedding! For a while, Liz appeared swept by a whirl wind of directions for anything from selections of table linens to specific flower arrangements, on to lighting and table shape (….a brief historic reminder of the Paris Peace Talks to settle the war in Viet Nam….)…..I should not fail to mention color choices. So you joined our little wedding planning group, becoming totally immersed in negotiating your ideas, and suddenly your voice of calm prevailed, Liz relaxed, and the wedding party was an exceptional event.
Jan and George Berardi, August 2017
We were at a party yesterday that you catered and the food was amazing! Everyone raved. And your worker was terrific too;
C. Kruse, May 2017
Steven's just catered our daughter's wedding and we cannot say enough about Steven, his staff and the food which was prepared for us! Everyone was courteous, helpful, and happy to do whatever was needed to make our family happy. They exceeded our expectations in making our daughter's wedding a dream come true. We can not thank them enough.
P. Kane, October 2016
Contact Us
Steven's Catering wants to hear from you. Complete the fields below to send us an email.
Steven's Catering
1221 Chesapeake Ave.
Columbus, Ohio 43212